Featured Item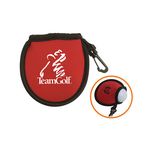 Golf Ball Cleaning Pouch
The ideal item for the pro or the prolific golf client. This pocket sized neoprene like cleaning pouch will keep things tidy from tee to green. To easily clean golf balls, just add a little water to t...

Welcome to BrandingHawk!
- a true boutique agency passionate about our customers!
Let us know how we can help you with:
Branded Apparel
Business Cards & Stationary
Custom Uniform Programs
Event Signage
Logo Design
Incentive Programs
Promotional Products